How to Improve Patient Safety in Your Skilled Nursing Facility
Patients and their families want to feel safe when making the transition to life in a skilled nursing facility. That's why maintaining and improving patient safety in nursing homes makes it to the top of the to-do list for facility directors year after year.

Safety is a complex issue for all skilled nursing facilities. Every day, patients interact with staff, fellow residents, and the medical equipment in the facility. If these interactions become rushed or facility equipment is not maintained correctly, the risk of injury rises. Plus, the presence of a culture of safety among management and staff contributes to consistent better care outcomes.

In this article, we will discuss patient safety in nursing homes to help you see where you may be able to make adjustments at your facility and improve the quality of care.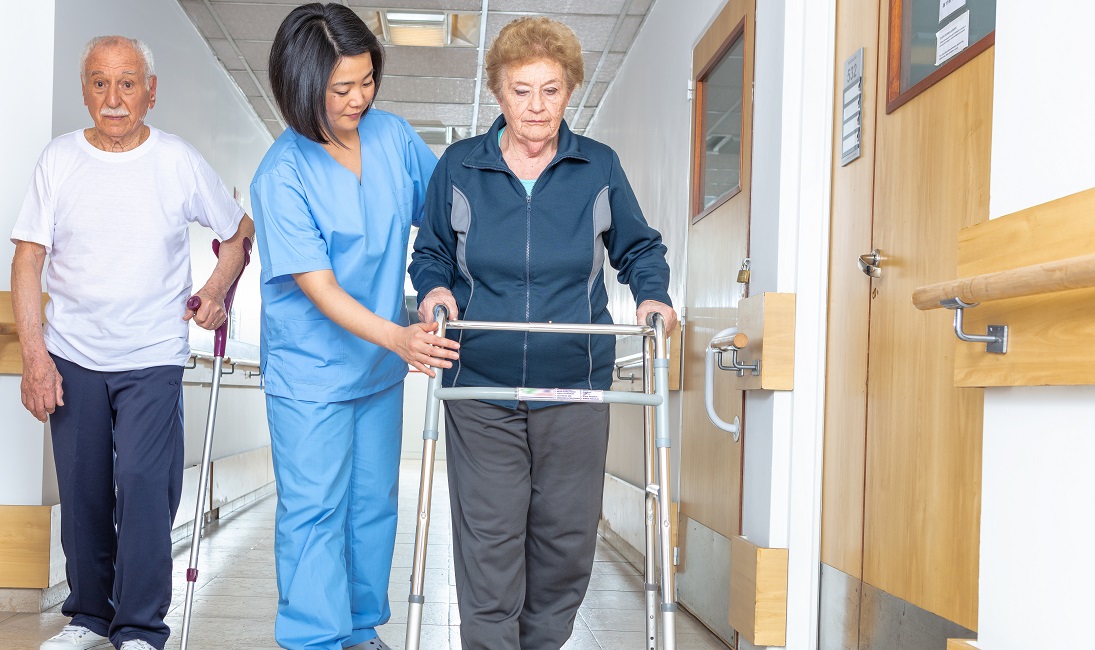 Start with fall prevention.
Falls are perhaps the most common reasons patients at nursing homes get hurt. Patients in long-term care facilities can have general weakness and are at increased risk of falling. But that's not the only reason they fall.

According to a study published in The American Journal of Occupational Therapy in 2019, reports indicated that the majority of falls in long-term care and skilled nursing facilities occurred during unsafe transfers between the hours of 8 pm and 8 am. Do you know when and where your patients are most at risk of falling at your facility?

A dive into your community's data could expose a vulnerability at your facility. Take a moment to review the data from any falls at your facility over the last few years. Do they occur in any pattern? Are they happening in a specific location or at a particular time of the day? Perhaps, most falls are occurring during a patient transfer, as the AJOT data suggests. If that's the case, the implementation of new transfer procedures could make all the difference to ensure safe patient handling. Are there any procedures that could be improved at your facility?

Falls happen. But they are often preventable. With safety procedures in place based on data, your facility can maximize fall prevention and safe patient handling.

An investment in a culture of safety is an investment in better patient outcomes.
Patients have so many interactions throughout the day. That means there are so many chances for something to happen and for a patient to become injured or unsafe. This may make it feel impossible to find effective and efficient ways to improve safety. However, there is a simple solution. A pervasive culture of safety at your skilled nursing facility can make a monumental difference in patient outcomes.

A culture of safety ensures that staff prioritizes safety in their interactions with patients. Unfortunately, data suggests that many long term care facilities have a poorer culture of safety than other health care facilities like hospitals or urgent care clinics. The primary causes of this misfortunate data point are low staff-to-patient ratios and a reactive (versus proactive) culture.

Improving the staff-to-patient ratio may be beyond your power due to budget constraints or other complex administrative issues. However, a shift in company culture can occur without a significant financial investment.

Facility management could encourage employees to work more safely by recognizing those employees who practice safe patient handling, fall prevention, or other practices that improve patient safety in nursing homes. Publicly appreciating your employees' actions encourages others to follow their example. This can help shift workplace culture from reactive to proactive.

Employee recognition programs could do the trick, including an employee of the month program. However, a reward system might be more effective. Use a system that allows individuals at all levels within the company to recognize stellar employee behavior. If all employees are encouraged to identify exemplary behavior among their colleagues, a culture of safety can develop that will reinforce the safe operation of your facility.

Know your local nursing home safety regulations.
Fires and other emergency situations are a constant threat to residents' safety. Your facility already has procedures in place in case a fire breaks out. But has your facility been maximized for safety?

Brush up on the nursing home life safety code regulations on a regular basis and identify any changes your facility can make to meet them better. Facilities that accept Medicare and/or Medicaid must be in compliance with National Fire Protection Association (NFPA) 101 Life Safety Code (LSC) and NFPA 99 Health Care Facilities Code (HCFC), according to Centers for Medicare & Medicare Services (CMS).

-LSC is a set of fire safety regulations for nursing homes that help long-term care facilities provide reasonable safety from fire, smoke, and panic.
-HCFC includes requirements for facilities to ensure standard safety measures are met, including maintenance, inspections, and safe practices across the entirety of the community.

Review the LSC and HCFC with your facility manager and brainstorm any innovations that could improve patient outcomes within your community.

Skilled nursing facilities are complex communities with numerous daily patient interactions. However, improving safety can be done one patient interaction at a time.